Warning! Never perform maintenance on a tree that is plugged in!
Follow these step-by-step instructions to learn how to change light bulbs on your Pre-lit tree.
Step-By-Step Instructions
Click on the thumbnail to scroll through the instructions, step by step.
Step 1. When working with lights on your Pre-lit tree always unplug the tree.
Step 2. Remove the protective clip from the branch. These clips hold your lights onto the branch and prevent damage to the bulbs.
Step 3. Some bulbs are equipped with bulb lock. Lift the plastic tab to remove the bulb.
Step 4. Remove the bulb from the plastic seating and discard. Your new bulb will have two copper wires.
Step 5. Align the wires in the plastic seating so that they can be threaded into the unit.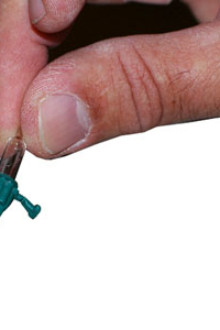 Step 6. Thread the wires into the plastic seating.
Step 7. Bend the wires back into the groves on the bulb seating.
Step 8. Seat the unit back into the bulb casing.
Step 9. Push down to lock the bulb using the plastic bulb lock.
Step 10. Clip the bulb onto the branch.